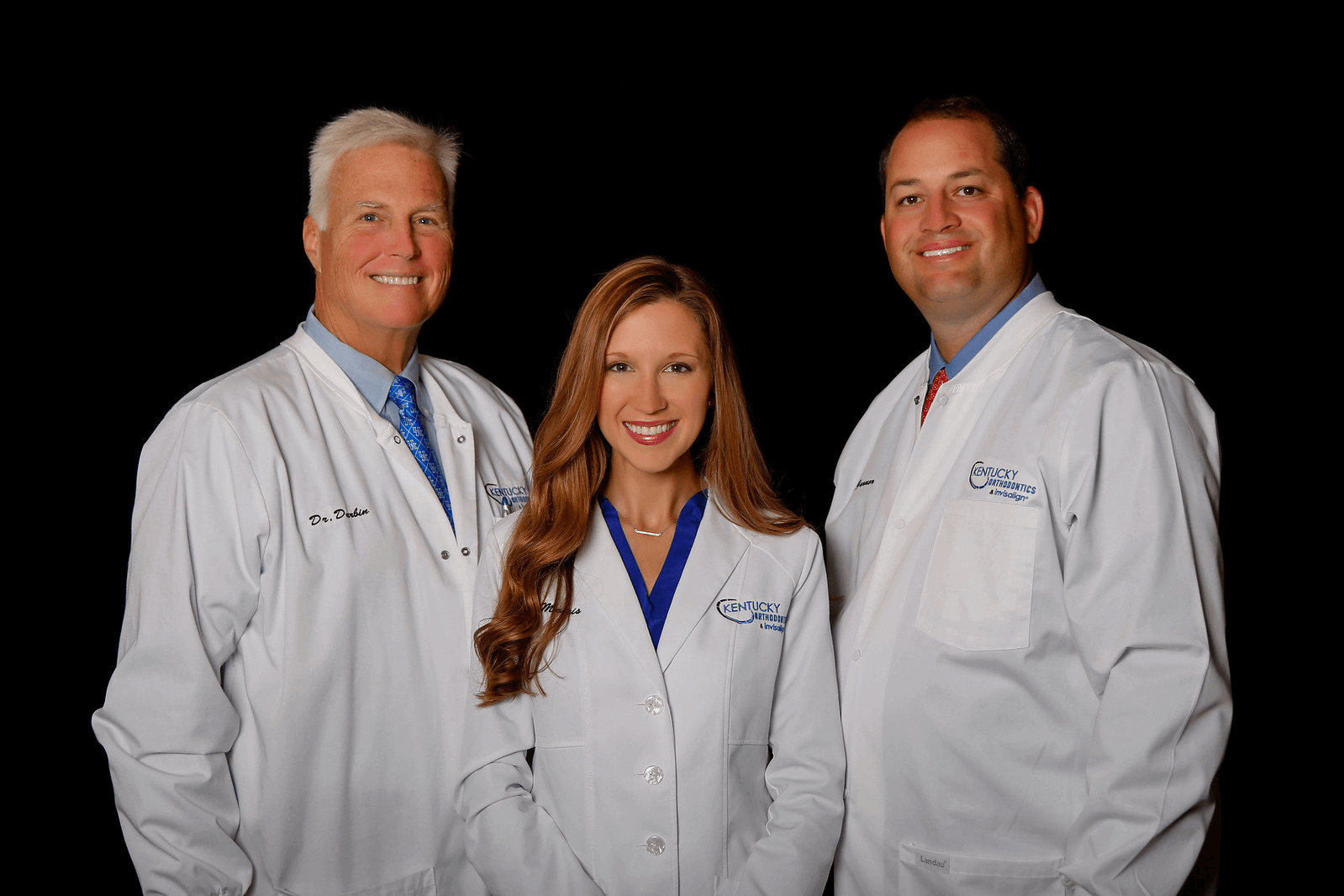 about our practice
---
Drs. Durbin, Morris and Garner at Kentucky Orthodontics & Invisalign offer greatly advanced and leading edge treatment options for children, teens, and adults who are in need of orthodontic care. We take pride in our specialty service and are proud to be improving smiles for our patients in many Kentucky cities and communities. As an Elite 1% Invisalign orthodontics practice, we perform complex dentofacial orthopedics, surgical Invisalign, accelerated orthodontics, and much more. We use ONLY the most modern technology and tools to provide our patients with highest-quality, life-lasting results. We also utilize digital radiology and pioneered the innovation of remote "Long-Distance Convenience Invisalign" treatment methods utilizing professional orthodontic monitoring via online tools such as Skype, Facetime, texting and email. Kentucky Orthodontics & Invisalign is at the forefront of best-practices orthodontic treatment and we invite you to learn more about us.
OUR DOCTORS
Our Orthodontists, Dr. Douglas D. Durbin, Dr. Lauren D. Morris, and Dr. Thomas C. Garner, are highly-skilled and trained in advanced orthodontic treatment modalities. Our number one priority is our patients, which is why we work diligently to provide attentive, personalized care. With the leadership of Dr. Douglas D. Durbin, who has been in practice for over 35 years, we are able to provide exclusive and individualized care that yields outstanding results. We take the time to listen to the questions and concerns of all our patients before providing treatment. Therefore, you can rest assured that when you visit us at Kentucky Orthodontics & Invisalign, you will be treated like family!
Reviews
Great!!! Staff is so wonderful. Dr. Durbin did a great job with my daughters teeth. She has a beautiful smile.
The professionals working at Kentucky Orthodontics and Invisalign were nothing short of phenomenal from my very first visit to my last. Everyone was very personable and welcoming from the orthodontists, to the dental hygienist, to the front desk receptionists. Each session the orthodontists and dental hygienists were very thorough with my treatment plan and made the necessary adjustments to ensure that I didn't just have a good smile but a great smile. As with anything in life, the amount of work that you put in will ultimately determine your final outcome. My particular treatment was Invisalign which required me to wear my retainers 20-22 hours per day. I'll admit at times it wasn't easy but i knew that if I followed the individualized treatment plan provided to me that I would ultimately achieve my desired smile. Now that I have completed the treatment I can honestly say that I couldn't be more happy with my smile and it's all thanks to the professionals at Kentucky Orthodontics and Invisalign! I would highly recommend Kentucky Orthodontics and Invisalign to anyone wanting to achieve a great smile!
Dr. Durbin asked me to write a review up after my treatment had started and finished, but I was so impressed with the entire staff that I am writing a review now. I highly recommend this office, even though I currently have nothing being done to my teeth. They are very professional and friendly. Can't wait to see how great my teeth look.
I've been a patient of Dr. Durbin's for going on 10 years now, and am continuously impressed with the services he has provided (braces, invisalign, retainers, etc.), the friendly office staff and the welcoming environment. If you have been searching for an orthodontist, look no further! Dr. Durbin and his team truly care about each patient's long term success and work hard/efficiently to ensure positive results are achieved. Dr. Durbin and staff, thank you for giving me a smile I am more than proud to show off!
As a person who had Conventional braces as a teenager and didn't wear my retainer as I should, I found later in life that due to grinding my teeth and dealing with Trigeminal Neuralgia my teeth had shifted and I was unhappy with the results. Drs. Durban, Morris and staff provided me with Invisalign's. They are so knowledgeable, caring and considerate. I was able to get my teeth straightened with Invisalign's and they had the knowledge to deal with a rotated tooth and bring it back into line. I am so happy with the results and glad I made the call to Kentucky Orthodontics & Invisalign to change the way I feel about my teeth and smile!!
4.9 Average Rating
258 Total Reviews